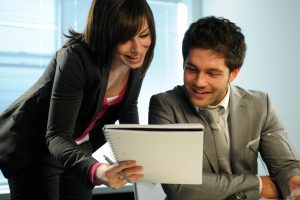 Do you know how to hire the right person for the job?  The first step is to begin by organizing the interview.  Yes, this sounds so easy, but we all know that there are numerous variables that come into play when hiring the right person.  Some of these might include which team members should be involved in the interview process, the location(s) to conduct the interviews, whether to have job shadowing or a ride-along day, and a host of other decisions.
Setting up your interviewing and hiring process clearly and definitely from start to finish will make your life easier!  In our daily lives as recruiters, we have seen hiring and interviewing methods implemented professionally and, well, not so professionally.
So, let's talk more about how to hire the right person.  We all know that in hiring, the details are important.  This includes constructing a well-developed job description that clearly defines the role. It makes it so much easier for all interviewers that are involved in the interviewing process to have a concrete baseline document to reference.  You're probably aware, or at least agree, that well-developed documents and processes can help to create seamless interviewing processes.  Defining the steps along the way for interviewers and the candidates is a professional aspect that cannot be overstated and it will lead you to hire the right person for your company.
This aspect is so important because it can positively further your company's brand and your employer brand.  Conversely, without proper preparation to interview, your organization may present itself in a less than stellar fashion. The image you present through out your employment process will outlive your various interviews.  It's important to recognize that the interview process for a candidate is somewhat of a very personal view of your organization.  You've invited them in as a guest for a visit.  This is known as the candidate experience during the interview and hiring process.
In fact, our contention is that a positive candidate experience actually creates a relationship, whether a candidate is hired or not.  Most will agree that relationships, both personal and professional, are of extreme importance, and understanding and fostering these friendships are important.  Why not create this friendly environment from the beginning and you'll uncover more interest and excitement from both candidates and your staff.
Learning how to hire the right person is key. The right person will positively impact your company, its success, and your success as a manager.  Follow this link to review our book about recruitment and hiring,  Hire with Fire.