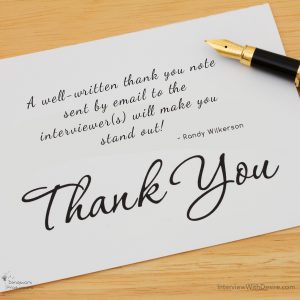 Emailing a post interview thank you note is great! Hiring managers are looking for employees with good follow-up skills. Immediately after your interview, email all parties involved in the interview a thank-you note. This is crucial! As a reminder, collect the business cards from your interviewers. Their cards will usually contain their email addresses to use to follow up with them.
A well-written thank-you note sent by email to the interviewer(s) will make you stand out. It is another way to get your name in front of the decision-maker and another chance to close or sell the employer on you. Do it immediately, at least within four hours, if possible. By responding quickly, you show that you are organized and interested. The employer will make the assumption that you will also respond to their customers in the same fashion.
For an example thank you note, download your copy of the new book, INTERVIEW with DESIRE and GET HIRED today.
An excerpt from INTERVIEW with DESIRE and GET HIRED! written by Denise and Randy Wilkerson