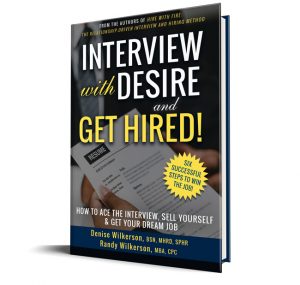 9-8-2020 Press Release:  Dandyworx Productions, LLC released a new book, INTERVIEW with DESIRE and GET HIRED! How to Ace the Interview, Sell Yourself, and Get Your Dream Job, on September 4.  The book is filled with helpful information for candidates who are looking to jump-start or excel in their career goals. The book takes readers through six-steps – outlined through the acronym, "DESIRE" – for an easy-to-follow guide on how to get the job of their dreams. Throughout the chapters, the authors demonstrate, for example, how to write a resume, prepare for an interview, and negotiate for a desired salary or job title.
Denise and Randy Wilkerson, the co-authors of INTERVIEW with DESIRE and GET HIRED also wrote the acclaimed book, HIRE with FIRE: The Relationship-Driven Interview and Hiring Method, which looked at the interview process from the hiring manager's perspective. Comparatively, INTERVIEW with DESIRE  focuses on the candidate and how they can shine during the hiring process. The authors have more than 20 years of recruiting experience through their nationally recognized medical sales recruiting firm, Global Edge Recruiting, LLC, and have worked with thousands of candidates and hiring managers over the years. "As a recruiter, I talk to candidates every day for various job openings in the medical sales field. Denise and I know what qualities winning candidates and employees possess and one of those qualities is simply having passion – or desire – to get the job," said Randy Wilkerson, co-author of INTEVIEW with DESIRE and GET HIRED and Vice President, Executive Search and Recruitment at Global Edge Recruiting, LLC. "Regardless of what field you want to work in, Interview with Desire can provide a new refreshing perspective on the hiring process and show you how to outshine the competition."
INTERVIEW with DESIRE and GET HIRED is available for purchase now on Amazon (https://www.amazon.com/INTERVIEW-DESIRE-GET-HIRED-Intervi…). The book is available in hardback, paperback, or e-book. Audiobooks will be available soon through Audible.
Dandyworx Productions, LLC is a publishing company specializing in developing various works, presentations, books and articles related to recruiting, interviewing, hiring, managing, and developing engaged employees. To find out more information about its most recent publication, INTERVIEW with DESIRE and GET HIRED or its previous publication, HIRE with FIRE, visit https://dandyworx.com.
https://www.prlog.org/12837293-new-book-interview-with-desire-and-get-hired-available-now.html